ITPEC News - February 27, 2019
ITPEC Top Gun Program 2019 was successfully finished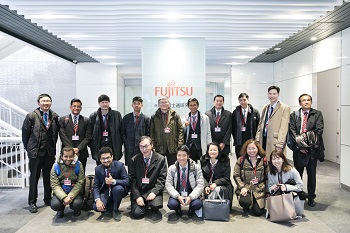 Visiting an IT company
From 18th to 27th February 2019, the 5th Top Gun program was conducted in Tokyo, Japan. The program participants are the passers who achieve excellent result in ITPEC examination. The program aims to cultivate the passers capable of taking a leadership role in driving forward ITPEC examination among Asian countries.
The program participants were nominated among the exam passers who achieved excellent results in FE or AP of ITPEC examination 2018 which was conducted in each country, namely the Philippines, Thailand, Vietnam, Myanmar, Mongolia, and Bangladesh.
The program provided an intensive lecture on Project Management, workshops on Japanese common practice in IT business, and some opportunities to interact with leading IT companies in Japan.
At the program completion ceremony, the certificate and the emblem badge to confer a title of ITPEC Ambassador were presented to each participant. They are expected to play a role of leading figure fostering a constructive relationship between Japan and their own countries as ITPEC Ambassadors.
The 6th Top Gun Program will be conducted from 25th February to 5th March in 2020.
Participants of the Top Gun Program 2019;
Mr. Dustin Ryan Suico Morales (Philippines)
Mr. Guian Paolo Barrameda Edejer (Philippines)
Mr. Natham Thammanichanon (Thailand)
Mr. Wichit Chuebupa (Thailand)
Mr. Hien Xuan Nghiem (Vietnam)
Ms. Anh Cam Pham (Vietnam)
Mr. Thet Paing Kyaw (Myanmar)
Mr. Tun Nanda Aung (Myanmar)
Mr. Narankhuu Boldbaatar (Mongolia)
Mr. Enkhzol Dovdon (Mongolia)
Mr. Batnyam Battulga (Mongolia)
Mr. Jaiaid Mobin (Bangladesh)
Mr. Nafis Irtija (Bangladesh)
Interviews of the Participants
Mr. Dustin Ryan Suico Morales from the Philippines
Mr. Guian Paolo Barrameda Edejer from the Philippines
Mr. Natham Thammanichanon from Thailand
Mr. Wichit Chuebupa from Thailand
Mr. Hien Xuan Nghiem from Vietnam
Ms. Anh Cam Pham from Vietnam
Mr. Thet Paing Kyaw from Myanmar
Mr. Tun Nanda Aung from Myanmar
Representative from Mongolia
Mr. Batnyam Battulga from Mongolia
Mr. Jaiaid Mobin from Bangladesh
Mr. Nafis Irtija from Bangladesh