ITPEC News 2015-02-27
First ITPEC Top Gun Program finished successfully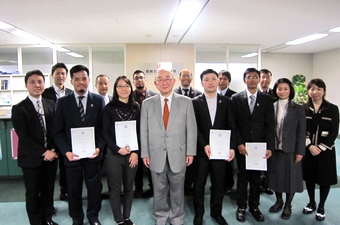 Top Guns with IPA Chairman and other IPA staff
First ITPEC Top Gun Program was held in Tokyo, Japan for 5 days from 2015/2/23 through 2/27.
This program is organized to nurture capable people so that they can play leading parts for ITPEC Examination promotion jointly with the examination implementing bodies and also for cooperation with Japanese companies.
Information-technology Promotion Agency Japan (hereinafter "IPA") invited 8 Top Guns to Japan from the ITPEC member countries.

The criteria for a Top Gun are the following:
1) Achieve a top-class score of FE exam or AP exam in each country
2) Have a good command of English
3) Have good communication skills
4) Have a strong motivation to learn from the program
5) Have a willingness to contribute as ITPEC Ambassador after returning to each country
This 5-day program included a wide range of contents such as project management training, workshops and discussions with Japanese IT companies, and hands-on experience of cutting edge IT services and products of Japan.
On the final day, a certificate of Appointment as ITPEC ambassador was given to each participant from Chairman of IPA, Kazumasa Fujie. It is expected that ITPEC ambassadors will play an important role in promotion of ITPEC activities and relationship-building between respective countries and Japan.
Participants of the Top Gun Program 2015;
Mr. Eugene Alvin Sandiego Villar (Philippines)
Mr. Sivaphong Niyomphanich (Thailand)
Ms. Woraporn Poonyakanok (Thailand)
Mr. Tanat Tonguthaisri (Thailand)
Mr. Duc Minh Dao (Vietnam)
Mr. Kyaw Zin Htoo Naing (Myanmar)
Mr. Naranbayar Uuganbayar (Mongolia)
Mr. Mehedee Zaman Khan (Bangladesh)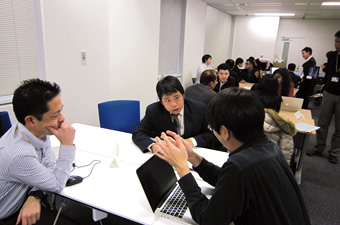 Workshop with Japanese IT Companies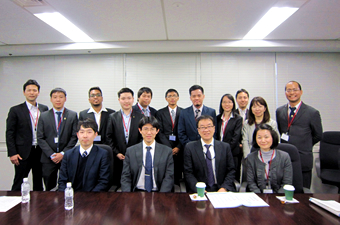 Courtesy visit to Ministry of Economy, Trade and Industry