ITPEC News 2014-09-01
Bangladesh officially joined ITPEC as 7th member country!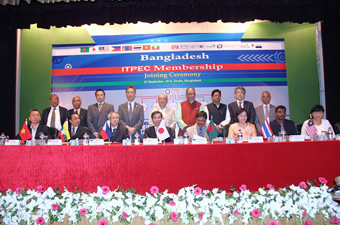 Bangladesh has become the 7th member country of ITPEC. In this regard, an ITPEC Membership Joining Ceremony of Bangladesh was held at Dhaka, Bangladesh on 1st September 2014 at BCC Bhaban Auditorium, Bangladesh Computer Council, Agargaon, Dhaka.
Signing of MoU among seven ITPEC member countries with Japan as well as signing of Mutual Certification Agreement (MCA) between Japan and Bangladesh was held during the occasion.
Minister for the Ministry of Posts, Telecommunications and Information Technology Mr. Abdul Latif Siddique MP graced the occasion as Chief Guest. Mr. Shiro Sadoshima, Ambassador of Japan in Bangladesh and Mr. Junaid Ahmed Palak, State Minister for ICT Division were present as special guests. Mr. Md. Nazrul Islam Khan, Secretary, ICT Division presided over the occasion.
14 (Fourteen) delegates from Japan, Philippines, Thailand, Vietnam, Myanmar, Malaysia and Mongolia joined in this event. The following delegates from seven countries attended in the auspicious occasion:
Mr. Hideyuki Ohashi, Deputy Director-General, Ministry of Economy, Trade and Industry, Japan
Mr. Hirokazu Takahama, Assistant Director, Ministry of Economy, Trade and Industry, Japan
Mr. Hisaya Tanaka, Vice Chairman, Information-technology Promotion Agency (IPA), Japan
Mr. Kenji Ogawa, Vice President, Information-technology Promotion Agency (IPA), Japan
Mr. Shin Sakaguchi, Chief Advisor, Information-technology Promotion Agency (IPA), Japan
Ms. Ryoko Toyoda, Group Member, Information-technology Promotion Agency (IPA), Japan
Mr. Peter, Jr Dy Que, Vice President, Philippine National IT Standards (PhilNITS) Foundation, Philippine
Mr. Ha Trung Nguyen, Director, Vietnam Training and Examination Centre, Vietnam
Ms. Suwipa Wanasathop, Vice President, National Science and Technology Development Agency (NSTDA), Thailand
Dr. Sirichai Kittivarapong, Director, NSTDA, Thailand
Mr. Tanat Tonguthaisri, Technical Officer, NSTDA, Thailand
Dr. Nantha Kumar Subramaniam, Acting Dean/ Acting Director, Open University Malaysia (OUM), Malaysia
Mr. Ye Yint Win, President, Myanmar Computer Professionals Association (MCPA), Myanmar
Ms. Narantsetseg Purevjav, Director, National Information Technology Park, Mongolia